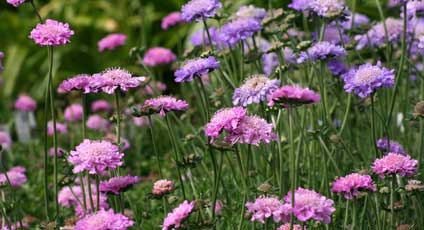 While the perennial flowers plant does shed its leaves for winter, they may make a return in early spring. Some might confuse Brunnera with forget-me-nots because of their color and shape. Add color and perfume to your flower borders with Oriental lilies (Lilium spp.).
Perennial For 2003
These spectacular vegetation produce bouquets of richly scented flowers from mid to late summer season. Oriental lilies are straightforward to grow from bulbs planted in the spring or fall. Some of the taller varieties might require assist in windy areas, so set stakes in the floor while the vegetation are younger. The beautiful blooms make glorious cut flowers, but remember to remove the stamens to keep away from staining your garments. Dig and divide the bulbs each few years in the fall to keep the plants vigorous. Growing wild within the American prairies,blazing star (Liatris spp.) is also a high pick for decent, sunny gardens. The vegetation don't mind warmth and drought, and are available pink, purple or white flowering varieties.
One problem many gardeners have with perennial flowers is deciding what to choose among the thousands of plants available.  If you're indecisive about perennial selection, or just want to include some of the best in this year's garden, consider the following four.  All came out winners in a survey of professional growers and designers in the Perennial Plant Association (PPA). Their top picks include a Shasta daisy, a dianthus, a hosta, and a sedum.
Becky Shasta Daisy (Leucanthemum x superbum) is one of the top cultivars of these daisies.  It has white flowers, grows about two to three feet tall, and has sturdy stems that don't need staking.  It is hardy to USDA hardiness zone 4 but also tolerates heat and humidity.  It was named for Decatur, Georgia, landscape designer Becky Stewart.  Flowers may start to emerge in late June.  If you remove flowers when faded, the plants may rebloom until August or even September.  As with most other Shastas, this cultivar likes average, well-drained, loamy soil and lots of sun.  It does well in containers as well as in borders.
Firewitch Dianthus (Dianthus gratianopolitanus) also may be sold under the German name 'Feuerhexe.'  Like many of the pinks (another name for Dianthus), this one has attractive blue-green foliage and fragrant flowers.  It is hardy over a wide range, from zones 3 to 8 or even 9.   It needs well-drained soil and sun.  Firewitch has single magenta flowers in late spring.  Snip these off when past bloom, and they should flower again in summer.  These grow only 10 to 12 inches tall so should be placed in the front of perennial flower gardens or borders.  They also work well in rock gardens or containers.
Patriot Hosta is one of the top selections of PPA members of the hundreds of hostas available and was named "Hosta of the Year" in 1997 by the American Hosta Society.  Like most hostas, it tolerates light to heavy shade, but can take sun if given plenty of water.  The soil, however, needs to be well drained.  This plant is medium sized, as far as hostas are concerned, reaching about 18 to 24 inches tall.  As such it could be used as a background for other plants although it is elegant enough to be featured by itself in a prominent place in the garden or in a container.  It has leaves with pure white edges and dark green centers.  The white on the leaves helps brighten up shady areas.  It has lavender flowers in early summer although the leaves are the main interest.
Blazing star varieties a clump of slim leaves which might be topped in mid to late summer season by 2-foot-tall spikes of bloom. This striking perennial flowers can be a favourite with butterflies, bees, and other pollinators. Another nice annual with a protracted season of flowering is the snapdragon plant.
Low rising perennials like the Heart-Leaf Brunnera thrive in partial shade. This plant blooms with sensible sky blue flowers that pop up over hardy silvery leaves. They're so hardy actually that the leaves will last down to fifteen degrees Celsius.